06/12/19
Chase those clouds
Vaping is cool, despite what many people say. We most definitely know it's cool, well because we said so. But if we're being honest, it's so much more than this. The best thing about vaping devices and vaping, in general, is that you can have fun with it and when we say fun, we mean vape clouds.
Naturally, it will take a bit of time to practice at getting good at making big vape clouds but it's actually achievable for anyone once you know how to do it. Before we delve into some awesome tips on how to make bigger vape clouds yourself, you don't want to be that person who has 'all the gear and no idea' or even worst 'no gear and no idea'. It's a good idea to first take a look at your vaping devices and keep some things in mind when trying to create bigger clouds.
The 101 on vaping devices and vape clouds
Is your battery safe?
When you're vaping, your safety should be at the utmost importance… it most definitely is for us. You need to ensure that the battery you're using is safe and only buy your battery from reputable vendors and most importantly, only use the right size and amp level for your vaping devices. A lot of common misconceptions are that you can use any charging device that fits. If you have built-in chargers, only use the regulated charging devices that come with them or are suited. Only use batteries that are sealed in the package and if it's damaged or loose, do not use it at all and dispose of it safely.
Always check your E-liquid
The type of e-liquid you use for your vaping devices can determine and alter the size of your vape cloud. You can read all about the different types of e-liquids here in our starters guide to vaping. Vapes that take a higher VG level in the e-liquid will typically produce sweeter and thicker vapour, whereas the ones which use PG based e-liquids will give you a thinner result. Most vapes use a blend of both VG and PG but if you want bigger clouds, you need bigger amounts of VG. We've hand-selected a bunch of favourite high VG e-liquids to get you on your way.
Airflow matters and we'll tell you why
Airflow can affect how big your clouds can get and if you can find the right balance between the number of resistances versus the amount of flow, you can get a substantial quantity of vapour. WE'll let you into a little secret – you can customise your vaping devices to create the perfect airflow for making bigger clouds. If you allow more airflow, you will experience a cooler and milder taste. However, if you want more of a rush and a hotter and stronger flavour, add in some more resistance. With most things in vaping, you have to find what is right for you. Have a little play with your vaping devices airflow and find the right level for making bigger and more beautiful clouds.
Trust us, your mod makes all the difference
Naturally, as you become more of an advanced vaper, you will have played around and become accustomed to using mods and different versions of them. Choosing to move over to using a mod means you'll be using larger and more powerful vaping devices. They act as a bigger version of e-cigarettes and can also give you stronger flavours when vaping. They even produce more vapour … who would've guessed? For an even bigger cloud, you can use mechanical mods that of course come with a lot of power, or a modern regulated mod, which is also a good alternative.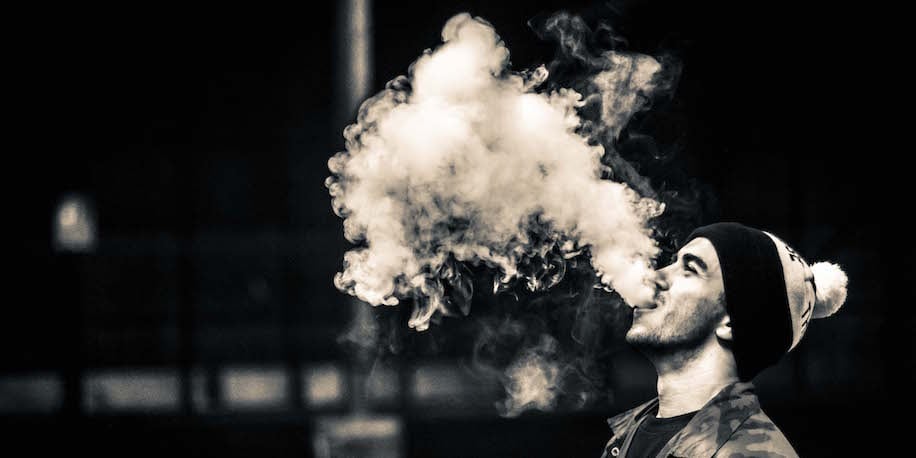 Don't fall at the last hurdle – use the right atomizer
We've broken down the anatomy of vapes so you'll know that the atomizer is what turns your chosen e-liquid into vapour. Technically it turns the e-liquid into little particles that make up your vapour but that's a bit too scientific for us. You can alter your atomizer to produce bigger vape clouds as it consists of a special wicking system that stimulates the e-liquid to touch the coils inside your vape. Once it touches the coils, it heats up and just like magic, it turns into the flavoursome vapour that you can breathe. If you choose an RDA atomizer, you're most likely getting the most effective vapour production and therefore, you get bigger clouds and who doesn't want that.
Wicking works … if you do it right
The quality of your wicking is guaranteed to make a difference in how big the clouds are. We've shown you how to wick your coil, but be careful, if your e-liquid heats up too quickly, you run the risk of it burning up without producing must vapour. You have to find the right balance because if it wicks too slowly, you might get a nasty bitter taste which you want to avoid. If you haven't wicked properly, it can affect the airflow too, so make sure you have some good quality cotton wicking material and you're onto a good start.
It's all in the technique
Now we've got the 'boring' bits out of the way, let's consider what else is involved when it comes to tips on vaping devices and getting bigger clouds. Tips, tricks and techniques, we've got it all and this is how you can maximise them for your chances of breathing big and impressive clouds.
If you're ever tried your hand at learning smoking tricks with a cigarette, the same rules apply when learning tricks with vaping devices and you're probably halfway there. The saying goes 'practice makes perfect' and we're sticking by it. You'll need to practice the right posture, as well as how to breathe in and out. It can take a while to get it right, but you'll get there, and once you learn you'll be able to do it forever.
Take a look at some general videos to help you get on your way.
Learn the tricks of the trade .. or in our case, vaping!
Once you've mastered the art of creating bigger vape clouds and you've got the right vaping devices, you can move on to the next level of vaping: doing awesome tricks with the vapour. There are tons of guides, tutorials and tips online that can teach you how to become a vaping trick pro and we may even drop a blog soon to show you how to get going. Stay tuned .. but good luck in the meantime!