06/01/20
Your personality and preference in a bottle
A brief intro into the world of DIY E-liquids
Naturally, we love everything to do with vaping and one of the most important parts of it is… well, the e-liquid of course. However, we'll be the first to admit that if you become as obsessed as we are, one of the few drawbacks of vaping is the cost of e-liquids. Obviously, the less you vape, the less it will cost, but once you get a taste it'll be hard to put your vape down. With DIY E-liquids, you have a solution to all of your problems.
Even though we are competitively priced at Smokeyjoes.biz, we appreciate the fact that vaping costs can quickly add up. If you're a fan of premium brands, then naturally, you will be more inclined to buy premium e-liquids which of course are more expensive. If you find that your choices can be limited or you just fancy something a little different, turning to make your own could be the path for you.
If you're new to the DIY E-liquids world, we've put this handy guide today and it's an easy-to-follow 101 on how to make high quality and delicious DIY E-liquids. We'll cover the A to Z including what supplies and ingredients you may need, how to mix it all up and we may even throw in a few Smokey Tips if you're lucky.
We love a definition: What are DIY E-liquids?
It's pretty obvious what they are but we're more interested in telling you what making your own e-liquid involves. Simply put, DIY e-liquids are a combination of three main elements: DIY base liquid of PG and VG, nicotine and flavour concentrates. But wait, don't get too ahead of yourselves .. the juicy bit is next. You don't necessarily need all of these elements, for instance, if you don't want to add the nicotine, you don't have to. Or if you're feeling an unflavoured vape, then that is an option too. You really have the opportunity to make it your own and don't worry – you don't need extensive knowledge of chemistry.
Let's get mixing. Your juice, your way.
There are two ways to create your magical DIY E-liquid and that's either by volume or by weight. This section is slightly more technical so make sure you pay close attention.
When mixing by volume, this involves measuring each element with mix equipment. Syringes are probably the best bet and ideally, you will need one syringe per ingredient to avoid any crossovers but you can use pipettes too. This does involve some cleaning and is more of a messier process but that's all part of the fun right.
When mixing by weight, each element is weight and takes specific physics into account. All the ingredients will have hold different weights per mL so you will also need to utilise a vape juice calculator and lucky for you, we have one just for you to make everything a little easier.
A Smokey Tip
Mixing by weight is cleaner and more accurate. If you're making your own DIY E-liquids in smaller quantities like 100mL or below, use this method.
Method done… Equipment next
Hopefully, by now, you'll have a better idea of what you're dealing with and you'll have your preferred method for making your own DIY E-liquids. But you won't get anywhere if you don't have the right equipment. So, what do you need?
Scale – If you want to use the weight method, you'll need a digital scale that measures in grams up to 2 decimal places. However, if you're opting for the volume method, you're more than fine with the ml markings on the syringes.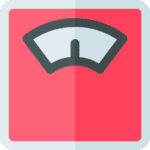 You'll be able to get your hands on plenty of cheap digital scales. Amazon and eBay stock them.
Disposable pipettes & syringes– These are useful for transferring the elements in between mixing and holding bottles. They're cheaper than the syringes we have on offer however, they don't come with any measurement markings so if you use them, you'll most likely need a scale. Syringes are better for faster flow and process of mixing as they are aided by the measurements.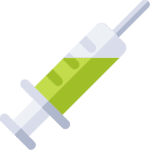 A Smokey Tip
Pipettes are good for dripping flavours when you're still in your tasting and experiment phase.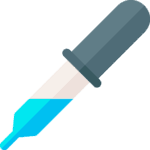 Latex Gloves- These are essential for two things. One, to make you feel like a true mixing guru. But in all seriousness and the second essential reason, the latex gloves protect your hands and fingers when handling nicotine and useful for keeping your fingers juice free. We always use latex gloves over plastic as it allows for better control and if you don't get them too dirty, you can rinse them and reuse them. Winner Winner.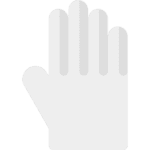 E-liquid bottles – The use of squeezy plastic bottles (That's a technical term here at SmokeyJoes) can be used for the ease of mixing and storage. It's really up to you which bottles you use, but if you're mixing your own DIY E-liquids for money-saving purposes than despite the plastic bottles not being pretty, they're far more economical.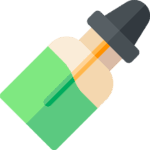 A Smokey Tip
Cover your plastic bottles with stickers, labels or opt for shaded glass if you're using glass bottles, especially if you're going to be mixing light-sensitive nicotine.
What's cooking good looking? A list of ingredients for your own e-juice
So, we briefly mentioned the elements of your DIY E-liquids earlier but we're breaking them down a little further. Regardless of the method, you use and what instruments you choose, your ingredients will always be the same.
Base liquids
This is basically your vegetable glycerin (VG) and propylene glycol (PG) and are the two most important elements to any e-liquid. This is your base liquid, which is ultimately unflavoured zero nic e-juice.
Concentrates
This is where all of your flavours come from. You can quite literally choose between thousands of concentrate flavours but we've hand-selected a favourite few to get you started. You can buy one-shots where the flavours are already mixed and you can mix them with your other ingredients. This can be pretty useful if you're just starting off in the DIY e-liquids world, however, if you want to get down and dirty and show us your creativity, you can experiment with different flavours and create your own concoctions.
Nicotine
This is optional. The strength you go for really comes down to your own preference. If you're a starter, then a 100mL bottle of 36 or 48 mg/mL nicotine should be enough. It goes without saying but take care when handling nicotine. This is where the latest gloves come in extra handy and please keep your nicotine out of children's or pets reach.
So, you have your method, you have your ingredients and you have your equipment. Get mixing and see what you can make. Congratulations, you've now made your very own DIY E-liquids! What next?
The post-mix flex
Label as you go along – The last thing you want is to end up with the perfect blend and have no idea how you got it. If you label your DIY E-liquids with VG/PG ratio, nic levels and flavours and percentages of each element along with the date created, you can most definitely recreate them in the future. You can even create your own recipe book.
Steeping – The best advice we can give you on this is to check recipes for their recommended steeping time. This is the simple process of letting the ingredients blend over time. Naturally, each blend will have different steeping times so be sure to check the recipes you're following and the rest is history.
Storage – Sunlight, heat and oxygen all sound pretty lovely… unless you're an e-liquid. These can affect the appearance and most importantly, alter the taste of your e-liquids. Store your homemade e-juices in cool and dark places safely. High on a shelf away from kids and pets is a good shout.
One last thing…
Less is more. More flavoured concentrates doesn't necessarily mean more flavour. Make sure you experiment with flavours and have fun. If you have any questions, you know what to do. Chat to the Smokeyjoes team .. we can't wait to hear from you.