Smokeyjoes Competition Xros Bundle
£1.50
Competition goodies – 1 x Xros 3 Pod Kit, 1 x Pack of Xros replacement pods and any three 10ml juices of your choice…
Grab your self a ticket, once all the available tickets have been sold we will pick & announce the lucky winner by using a Random Number generator.
Pick any number from  1 – 50
GOOD LUCK!
keep your eyes peeled …  More Competitions will follow.
Description
Smokeyjoes Competition – You need to be in it to win it….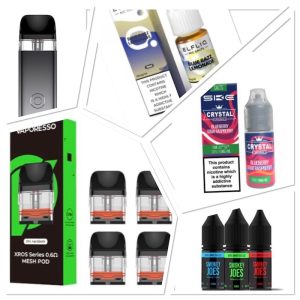 Additional information
| | |
| --- | --- |
| Ticket Number | 01, 02, 03, 04, 05, 06, 07, 08, 09, 10, 11, 12, 13, 14, 15, 16, 17, 18, 19, 20, 21, 22, 23, 24, 25, 26, 27, 28, 29, 30, 31, 32, 33, 34, 35, 36, 37, 38, 39, 40, 41, 42, 43, 44, 45, 46, 47, 48, 49, 50 |