08/01/21
Goodbye 2020, goodbye smoking!
Now that 2021 is in full force, we know many people will want to leave 2020 behind, for more than one reason. If you're kicking smoking to the curb and transitioning away from traditional cigarettes, tobacco e-liquids will certainly help you on your way.
A little intro into tobacco e-liquids
Most vapers who are making the switch from smoking are naturally still going to get cravings and this is where the tobacco e-liquids will be your best friends. They're especially good when using e-cigs which mimics the action of smoking. It goes without saying, but the transition from vaping to smoking is difficult so having a good range of tobacco e-liquids to choose from is always a great help.
This also has many health benefits as you can still get the cigarette taste but without the harmful chemicals. You can also use tobacco e-liquid over a length of time meaning you spend less money in comparison to smoking.
Today, we're going to dive into the best tobacco e-liquids in the market right now and how they help make your transition into vaping a whole lot easier. From bold flavours to rich undertones, we have tested, tried and reviewed these e-liquids so we can bring you only the best there is to offer.
Bourbon Tobacco By Ruffian
If you're looking for tobacco e-liquids that are rich and have depths of flavour, Bourbon Tobacco by Ruffian is a solid choice. This e-liquid has a lot of multi-layered flavour and really brings out a nutty boldness to the tobacco flavours. It truly is a beautiful e-liquid and probably guaranteed to become a firm favourite for any ex smoker when trying vaping for the first time.
Deluxe Tobacco Shake and Vape 60PG/40VG by Smokeyjoes
If you're after stronger tobacco e-liquids, Deluxe tobacco shake and vape give you the full, intense flavour. However, though it's rich in tobacco flavour, it's more on the lighter side so there is a smoother inhale and an exhale that matches.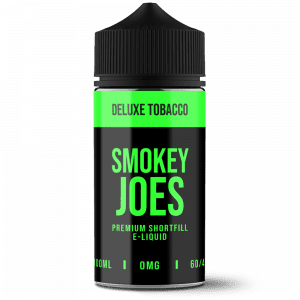 Gold and Silver Shake and Vape 60PG/40VG by Smokeyjoes
Gold and Silver shake and vape is another favourite amongst the tobacco e-liquids we have at Smokeyjoes. This is because it encompasses two very popular and well balanced flavours; tobacco and cherry. This is hands down the closest thing you'll get to the popular Gold and Silver cigarettes and with undertones of creamy flavours on the exhale, it's a great way to add flavour and tobacco when vaping and quitting traditional cigarettes.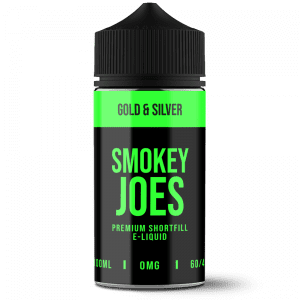 Top tier tobacco e-liquids – Bacco Ice
When you quit smoking and start vaping, it's only natural to want the good stuff and with this brand, you get exactly that. Bacco Ice by The Good Stuff range brings the ultimate mix of tobacco and menthol, all in one bottle and all for you. As far as tobacco e-liquids go, the menthol element of Bacco Ice really gives a cool, smooth variant to the flavour. It allows for the intense Tobacco hit to be followed by a cool, icy after tone on the exhale. Absolutely delightful.
Where can you get tobacco e-liquids?
Are you looking for a vape shop that can help you with transitioning away from smoking and into vaping? Have a look at our store online or come and visit us in store. We've got a team of dedicated vapers who can help you with any further information on these selected e-liquids or others we have for you to explore.
We're always available to assist you in finding the best e-liquid for your device so please do not hesitate to get in touch today. After all, the hardest decision of quitting smoking is already done. Now the fun begins …