17/12/19
There's nothing blue about blu
Whether you're an advanced vaper or just starting off, Blu e-liquids are something every vaper should try. But for all of the starters out there, we're going to delve a little deeper into the solid myblu starter kit and all the pros associated with it.
Let's get into it a little history
The myblu is a super-lightweight and compact vaping device for beginners and to make things even simpler, they come with pre-filled pods filled with juicy blu e-liquids.
Myblu is made by a very popular e-cigarette company called Blu owned by Fontem, a subsidiary of Imperial Tobacco. They've been on the vaping scene for a good while now… since 2009 to be exact and they've taken the vaping industry by storm ever since. In our words, you'd be silly to miss out on purchasing these guaranteed wins when you're starting off.
Since Blu started off, not much has differed from a design perspective, however, one aspect that has most definitely changed is their blu e-liquid flavours .. but we'll get onto those a little bit later. Trust us, you're in for a treat.
Today, we're focusing on their myblu starter kit and we're going to break it down and give you all the juicy details.
Size, weight and feel of the myblu starter kit
The myblu is a super-lightweight vaping device with the battery weighing in at 66 grams alone and measures at 9 X 18 x 106mm. It has a built-in battery and is also one of the most compact vapes in the market.
However, don't let the size fool you – though it's lightweight construction is ideal for a compact and subtle vape, the myblu starter kit feels like a solid and well-made e-cigarette. A common and popular component of Blu and their offering is their well-built and robust builds. The myblu has a sleek and gadgety design and most importantly, it is discreet and feels good in the hand.
The best thing about the myblu starter kit is that you can take your pick from a range of colours.
A Smokey Tip
Due to its size and compact nature, make sure the pods click securely into place. This will not prevent you from going through them, however, it can be a small click into place that makes all of the difference.
Getting started with Blu
The myblu starter kit is exactly what it says on the tin or in this case, the extremely recognisable Blu packaging. It has everything to get you started. The kit is accessorised with a myblu device, a built-in battery, a USB cable and a user manual.
If you already know your way around starter kits, you can bypass the following step by steps on how to get started. However, if you want a refresher, carry on reading. To get started, charge your myblu device fully and insert your chosen pod of goodness once it's been taken out of its packaging. Insert it in the opening of the battery, and inhale. When your Blu e-liquid pods are empty, simply pop in a new one and it really doesn't get much easier than that. There's a handy little U-shaped window that allows you to see how much e-juice is left inside the pod, however, keep in mind the lower end of your Blu e-liquid pod is not visible so if it drops below the cutouts, you'll have to manually go in and check by removing the pod.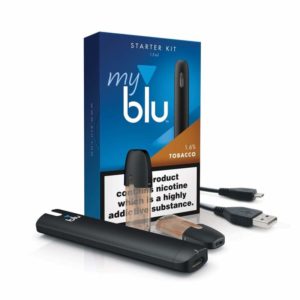 How does it hit?
The hit on the myblu pods are very comfortable and smooth. If you're transitioning away from smoking and switching to vaping, this e-cigarette mimics that of a cigarette. For the size of the myblu kit, it produces a surprising and nice amount of warm vapour.
There are actually different types of hits available due to the different nicotine strengths available. In the UK, you can get 18mg for the INTENSE line and 0, 8 or 16mg for the regular Blu e-liquid pods.
The battery life of myblu
The myblu comes with a built-in battery and you get a lot for its size. You can get to full battery life in just 20 minutes charging from flat and you can typically expect to go through a full pod before you need to charge again. However, keep in mind that this is dependant on how often you hit it. This is especially ideal if you're on a night out. Its discreet nature means you won't have to miss out on any juicy goodness and it will last a while.
The LED will light up while you are inhaling, and the colour of the light will indicate the battery levels:
Blue: 20-100%
Orange: 5-19%
Red: 0-4%
The light will also stay red while the battery is charging and turn off when it reaches 100%. Finally, the device charges through its micro USB port, unlike the proprietary chargers that many of its direct competitors are using.
What's your flavour – tell me what's your flavour
If you're accustomed to how things go down at SmokeyJoes, you'll know that that we know our stuff when it comes to flavour. We stock a big range of Blu e-liquids but we're going to dive a little deeper into a few of our favourites.
Blueberry (INTENSE) Blu E-liquid
This is a well-made and juicy e-liquid flavour. The reason why we love this so much is that it offers a more of a realistic blueberry taste in comparison to those sweet and artificial ones that you often find on the market. It also has just the right mix of fruit to nicotine ratio making it a very smooth and satisfying hit.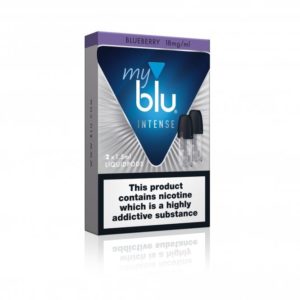 Mango Apricot Liquid Pods
You're in for a real treat if a taste of paradise is exactly what you're looking for. The combination of Mango and Apricot tastes exactly how it sounds but the most amazing part of it is that none of the two ingredients overpowers the other. The more you puff, the more you'll become obsessed with it and we guarantee it.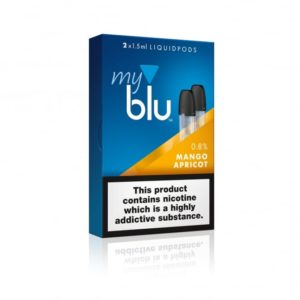 Mint Chocolate
If you're looking for a trip down memory lane, this is the perfect Blu e-liquid for you. This flavour encompasses the richness of the cocoa as well as the sharp and smooth hit of mint. The best thing about it all? It's the perfect flavour all year round. If you're looking for a cooling flavour during warmer days, this is the one for you. The luscious cocoa hit brings a warmth that is ideal during colder evenings. This is one not to be missed. However, it doesn't stop there. Blu has a big selection on offer, so take a browse and see which ones tickle your tastebuds.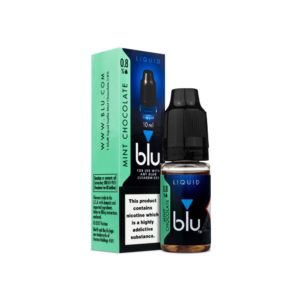 As with anything in vaping, the perfect e-liquids are the ones you choose based on your own personal taste and preference. From e-liquids to e-cigs, Smokey Joes have got you covered when it comes to Blu products.  We're always on hand for a chat to make sure you're getting the best products should you need us.