[mk_fancy_title strip_tags="true" tag_name="h1″ color="#b73328″ size="40″ margin_bottom="0″ font_family="none"]Nicotine Shots[/mk_fancy_title]
[mk_padding_divider][mk_blockquote font_family="none" font_size_combat="true" text_size="16″]Nicotine Shots or Nic Shots are 10ml TPD regulated bottles of high strength flavourless nicotine, they're designed to be added to short fill or shake and vape bottles of non-nicotine containing e-liquid.[/mk_blockquote][mk_padding_divider]
[mk_fancy_title strip_tags="true" tag_name="h3″ color="#b73328″ size="30″ margin_top="20″ margin_bottom="0″ font_family="none"]The history…[/mk_fancy_title]
Back in May 2017, the Tobacco Products Directive came into force across Europe. As a result, manufacturers can no longer sell eliquid containing nicotine in a bottle any bigger than 10ml in size; hence nicotine shots, or "nic shots" were born.
It allows companies to sell larger bottles of nicotine free e-liquid, which are not subject to regulation under the Tobacco Products Directive, with a 10ml bottle of high strength flavourless e-liquid to add to the bigger bottle. These high strength 10ml bottles have a maximum nicotine concentrate of 20mg and are fully compliant with TPD regulation.
By adding the high strength nicotine to the bigger bottle of e-liquid, it dilutes the nicotine strength to the much lower level required to achieve 1.5mg, 3mg or in some cases 6mg.
[mk_padding_divider]
[mk_fancy_title strip_tags="true" tag_name="h3″ color="#b73328″ size="30″ margin_top="20″ margin_bottom="0″ font_family="none"]Looking for Nicotine Shots?[/mk_fancy_title]
If you've bought shake and vape or short fill e-liquids from another supplier and you need to purchase some nic shots, we stock a range of strengths and flavours.
It's also worth noting, SmokeyJoes.biz includes all the required nicotine shots for FREE with every shake and vape or short fill bottle purchased.
Summary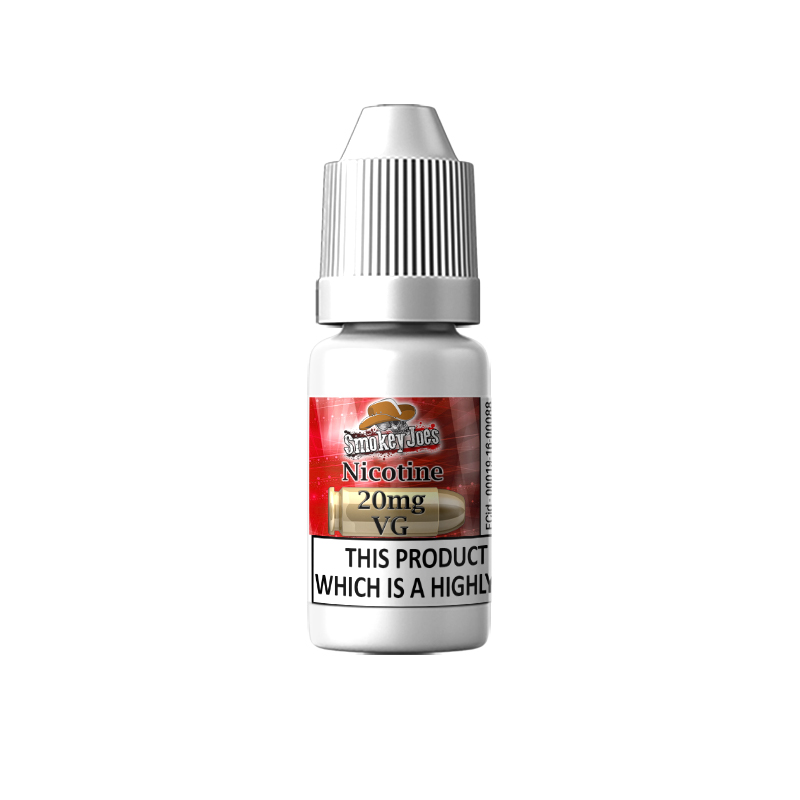 Article Name
Description
What are nicotine shots? Why do they exist and how they're used.
Author